When you hear the word "bees", you think about "stinging", don't you? If that is the case, then it is possible that you do not understand comprehensively the impact and importance of bees in our environment. Not all bees sting and they are not only flying insects to be scared of as they help with pollination of flowers and plants. Moreover, the presence of bees are beneficial for your shrubbery, produces and most importantly, yield honey and beeswax.
However, it is a well-known fact that some people are susceptible to bee stings. In this article, we list different types of bees so you can further understand them.
All Different Types of Bees
Do you know how many types of bees are actually there? There are 25,000 known species of bee all over the world. In the US, there are about 4,000 species, while more than 250 ones are in Britain. There are actually more waiting to be known.
There are two major classifications of bees; these are social bees and solitary bees.
Social Bees
These are kind of bees that create large gatherings or colonies as seen in a group. Social bees are the most common types of bees when people think of them. What's more, social bee hives have many bees, producing combs, nourishing their larvae, and producing honey. The succeeding types of bees are essentially the most likely to be seen generating hives or functioning together to create a community. In general, although docile, these bees only sting when they feel that their colony or hive is threatened.
1. Bumblebees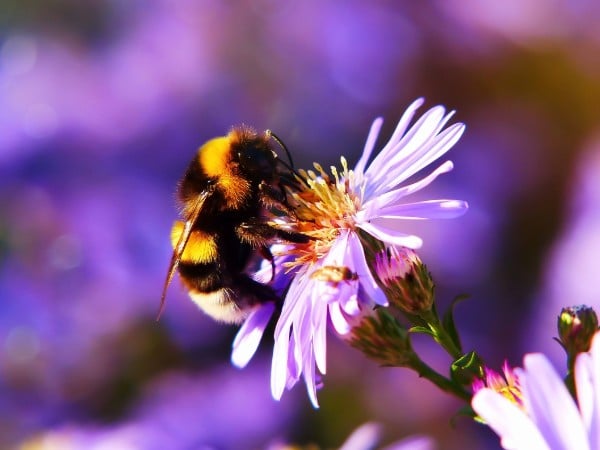 Bumblebees are also known as "big bees" which are superb hairy pollinators of all kinds of plants and flowers in the garden. Their adeptness in pollination is not also somehow with the help of their furry coats, but also because they have the ability to do so. They are quite large in size, second to honey bees in terms of pollination, and enthusiastically leech to flowers in finding pollen and nectar.
2. Honeybees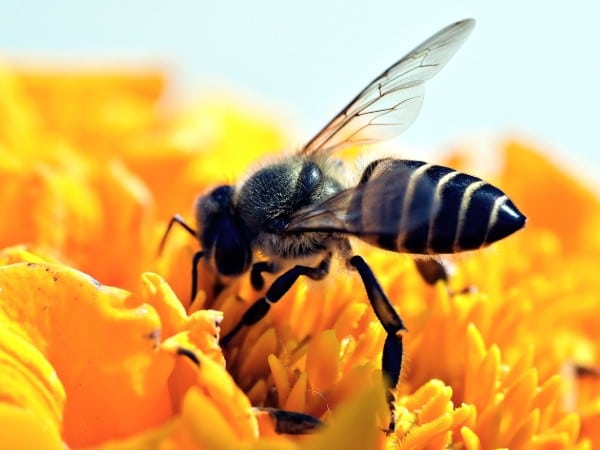 Honeybees are the top one pollinator and vital in our ecosystem. They make colonies that can be as huge as 80,000 individual insects, breathe in hives, and produce honey. Honey bees do not appear furry or hairy like bumble bees, are smaller in size than the bumblebees, and have lengthier but narrower figures. In addition, these bees have groups that labor in a caste system and have roles in maintaining the hive. The three castes include the queen bee, the worker bees, and the drone bees. Read on types of bees in a hive for further information.
3. Africanized Honeybees
Africanized honeybees are also called "killer bees" and initiated in Africa. They were formed with common honey bees to be a new cross-bred that ran away from a lab in South America. They are notorious for being wicked tempered, for domination areas once occupied by honey bees and for their disposition to attack anything or anyone that comes near their bubble and plainly bite them till they die.
Solitary Bees
These kinds of bees do not swarm, live alone, and desire to work on their own or with very small groups. Moreover, solitary bees have very teenier nests, fly solo, and produce enough food just to feed the larva they have. Most of them are fairly harmless to individuals and only a few of them can cause harm.
4. Carpenter Bees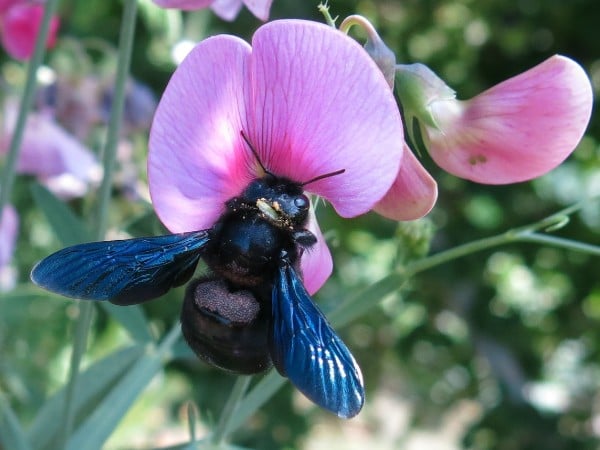 Carpenter bees look like huge, tubby, and extremely hairy bumble bees but there are dissimilarities between carpenter bees and bumble bees. You would see them at a closer look. These bees are blue-black with the hair in stripes like a bumble bee. Carpenter bees are called at such name because they create their nests inside wood of almost any kind, even trees, and logs. However, it is a problem when they set up their colonies in your home.
A carpenter bee will make a hideaway into the wood as chambers for larvae and eggs. This can be a source of damage to many homes. They can deteriorate wooden structures and will eventually cause destruction to buildings.
In terms of stings, carpenter bees are not that harmful. Male carpenter bees do not have stingers. However, female carpenter bees do have a stinger that can be excruciating.
5. Digger Bees
Usually smaller than carpenter bees, digger bees are also hairy. In terms of length, they are generally about 12 to 18mm. They are often seen getting out of holes in the ground where they make compartments as their nest. Diggers will make a hideout and utilize special glands that guard the chamber. Their tunnels will usually comprise of one major hollow and some tunnels for food or storage and for their eggs and larvae. Fortunately, there is very little danger of being stung by a digger bee.
6. Mining Bees
In the Andrena family, there is an estimate of 1,200 species of bees, widely known as mining bees. They have the same behavior as digger bees. Mining bees make tunnels and nests that are intricate underground. Occasionally, mining bees' offspring set up their chambers nearby on the ground, so an influx of these bees on your stuff can probably cause damage, but only in the most remote and extreme circumstances. Additionally, these bees favor loose soil. Yet again, the risk of mining bees stings is marginal.
7. Leafcutter Bees
These bees are measured about 7 to 18mm in length. They are also very dark and look like they are made from some dainty iron. Leafcutting and mason bees are under the same family, but leafcutter bees create their tunnels and nests in decaying wood and in buildings' insulated panels. At a distance from buildings, they will use deep spaces in timeworn trees and logs. Fun fact: their name came from their inclination to cut small pieces off of plants and using them to mark their tunnels.
8. Mason Bees
Mason bees are the same, though they have been recognized to burrow into soft cement in buildings. They tend to create small holes. With their size, the holes usually do not give any risk with them. Similar to most solitary bees, there is little threat of being stung by a leafcutting or mason bee.
9. Sweat Bees
In case you are out on a hot summer day and encounter a bee, most likely it's a sweat bee or alkali bee. These bees can be as small as 3mm in length.  Just like other solitary bees, they like to build their nests covert. Sweat bees are fascinated at the perspiration from humans and other animals. Nonetheless, they are so small that getting stung by them is closely impossible. They are not aggressive and will only sting if pressed against the skin.
10. Plasterer Bees
Just a little larger than sweat bees, plasterer bees are 10 to 18mm in length and fairly hairy-looking. They also burrow underground, but will also use cracks in stone and bricks to make their nests. They are called like that because they plaster the walls of their nests with a discharge that will dry to a lustrous, transparent appearance. Once more, the risk of plasterer bee stings is extremely minimal.
11. Yellow-faced Bees
Yellow-faced bees come from the same family as plasterer bees and usually are small as about 6mm. They are named from their yellow-colored faces, though sometimes they are white.
Types of Bees in a Beehive Explained
Honeybees are a wonderful, structured community that is crucial and helpful to our food chain. Normally, they thrive in colonies which comprise of a queen, drones and about 20,000 to 80,000 female worker bees. A bee colony is highly specialized where no bee is able to survive on their own. Hence, there is a partition of work and every bee must fulfill its own duties and co-operate in order to survive. In the following list, we enumerate and explain the types of bees in a beehive and their roles.
1. Queen Bee
The queen bee is the largest and long-surviving kind of bee (she can survive for up from five up to six years.) It is the only sexually developed adult female bee of a colony that is capable of laying fertilized eggs in an entire day for the next generation of bees. That's actually up to 2,000 eggs in a day. Furthermore, she also releases chemicals to have an influence on other types of bees.  The role of the queen bee is deemed vital in maintaining a harmonious work cycle in a beehive. Though they can live longer, they only often thrive two to three years generating eggs.
2. Drone Bees
Drone bees are male bees whose tasks are easier than worker bees and queen bees. They only have to eat and mate with the queen bee. In terms of size, they are bigger than the worker bees but smaller than the queen bee. In spring and summer,  about hundreds of drone bees live in the hive. However, they actually die after mating with the queen bee and before winter comes, they are expelled by the worker bees.
3. Worker Bees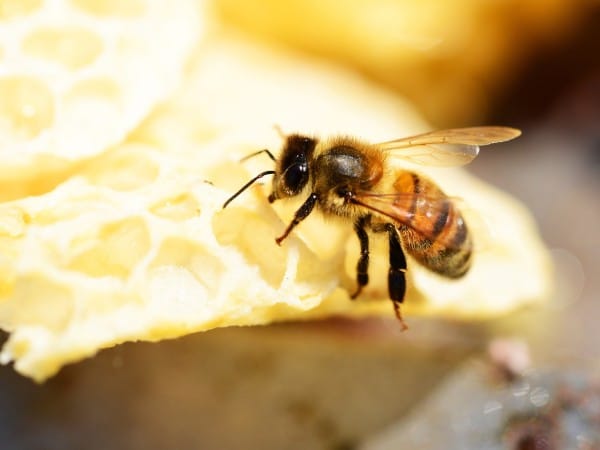 In the caste system of a hive, the worker bees are all female bees that hunt for food, develop, guard the hive and maintain the cleanliness of the air within the hive. Unlike the two types of bees, worker bees are not capable of laying eggs and are sexually undeveloped. In case you see a bee outside a hive, it's a worker bee since other bees do not go outside.
All Different Types of Wasps
Just like bees, there are about 75,000 species of wasps that are known all over the world. Though people mostly confused wasps for bees, they are different. The major difference is that while bees are nectar-drinking insects, wasps are carnivorous flying creatures that prey other insects like spiders. They also sting minimally but are more dangerous compared to bees so caution is still needed. Usually, they are beneficial to the surroundings that act as organic pest control on farms, crops, and gardens.
These flies are usually grouped into two categories: solitary wasps (they live alone) and social wasps (live in colonies.) In addition, out of the thousands of species recognized, the common are solitary in nature.
Social Wasps
Social wasps thrive and function in colonies the same way honeybees and ants do. Mostly, the creatures that work in a wasp hierarchy are the queen's infertile daughters that create the nest, get food, and look after the queen's offspring. Their colony can only last for one year. The common types of social wasps such as yellowjackets, hornets, and paper wasps start a new nest each year. The fertilized queens are the only ones to survive while all the other workers simply die as frost approaches. The following are the common types of social wasps:
1. Yellowjackets
Yellowjackets have the same size as honeybees (about half an inch to three-fourth inch-long) and black with bright yellow marks. A nest can comprise of up to 5,000 members. They are often mistaken for honeybees, even though they are smaller, speedier, and have a brighter yellow in appearance. Furthermore, they make their paper nests like how hornets do but either in logs, attics, grounds, or walls.
When they hunt for food, they are seen hovering back and forth from their nest and usually eat sweets and meat. In terms of stinging, they are fairly sore but are usually not violent except when bothered since they are aggressive in defending their nests.
2. Hornets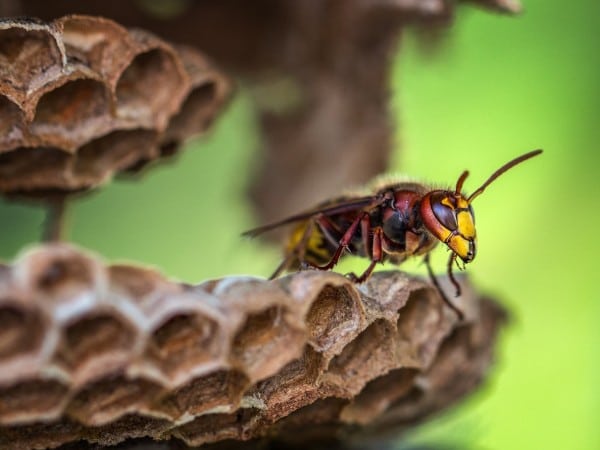 Hornets are measured two inches and construct large paper-like nests made from chewed wood. They are also referred to as bald-faced hornets and have a similarity to yellowjackets in terms of color but differ in size. Their nests can be found usually in wooded spaces, bushes, tree branches, sides of buildings or houses, and poles. In a hornet nest, there are only seven hundred members. Just like yellowjackets, their stings are not that harmful but can be aggressive when threatened.
3. Paper Wasps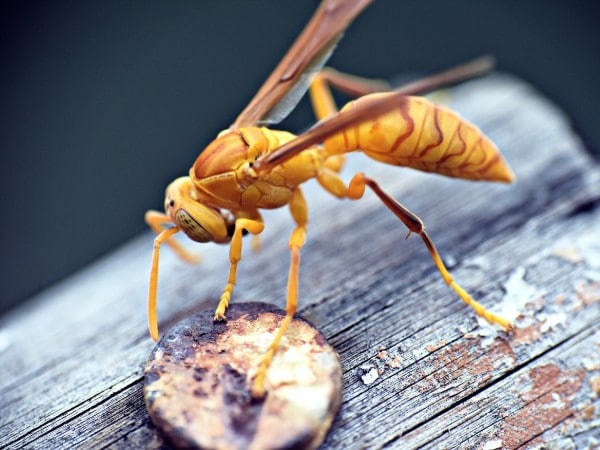 Paper wasps are called such since they create distinctive umbrella-shaped nests that are water-resistant out of gray or brown paper material. Their nest does not an external cover. Moreover, a paper wasp colony has a more or less 25 wasps, though the number may become over 100 in the late season. In terms of appearance, they are longer and slimmer than yellowjackets, and they have various colors due to different species.
Solitary Wasps
Unlike social wasps, solitary wasps live alone and do not create big colonies and usually flock during midsummer. To add, they are hunters and prey on crickets, cicadas, spiders and other insects. They weaken their prey and carry it to a den. After that, they lay an egg to their prey and the larva feeds it. Usually, they are not hostile and stings do not hurt. The following is a list of common types of solitary wasps:
4. Cicada Killer Wasps
Considered as the main wasp species in Nebraska, cicada killer wasps are about one and a half to two inches in size and have yellow stripes on a black physique.  The holes they create underground are near trails, driveways, and walls. These wasps have the capacity to build nests wherever they like. During midsummer, it is well-timed that their prey (cicada, grasshoppers, and crickets) are around and active.
5. Tarantula Hawk Wasp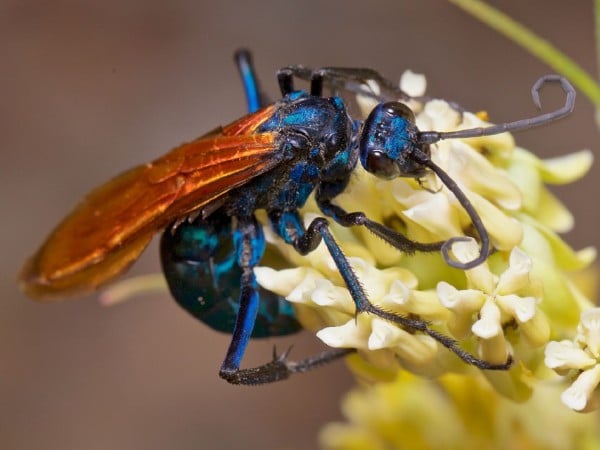 This kind of wasp is a huge, dark, blue wasp that has glossy brown-orange wings, somewhat tinier than a cicada killer. It is also called spider hawk wasp. A distinguishing feature is the curled female's antennae. Spider hawks have the same performance but as can be guessed by their name, favor spiders as food for their larvae. Other species will make nests in structures.
6. Steel Blue Cricket Hunters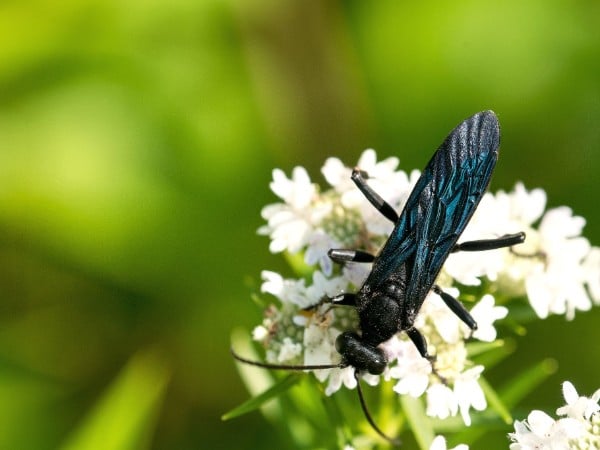 Another large wasp and about one to one-fourth inch long, a steel blue cricket hunter is also called thread-waist wasp or aphid wasp. Up close, you can see that their body is a dark steel blue metallic color with dusky wings. As implied on their name, their larvae are nourished mainly with crickets.
7. Sand Wasps
The sand wasp is an inch long, has huge eyes and has a black and white-striped body. Despite the fact of being a solitary wasp, some females group as one to make separate nests in the soil and dishearten attackers. Sandboxes in backyards are sand wasps' target for feeding their larvae primarily with flies.
8. Mud Wasps
Considered as "lone wolf" of the wasp species, mud wasps build their colonies on their own and attack only to catch their prey. These mud wasps have three types: mud daubers, potter wasps, and pollen wasps. As their name suggests, they create nests both above and in the ground.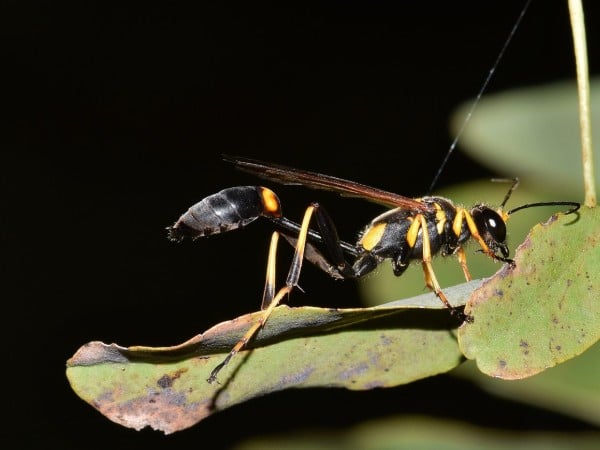 Mud daubers are long, slender swaps of about an inch long. Their nests are small with tube-shaped or cylindrical structures with a colony of three to twenty wasps. Sometimes, they are called "thread waist wasps" or "dirt daubers". They can sting even when not provoked and do not defend much their nests like the yellow jackets. Moreover, they can be found under porches, attics, eaves, and walls. Their usual prey is spiders, specifically black widow spiders.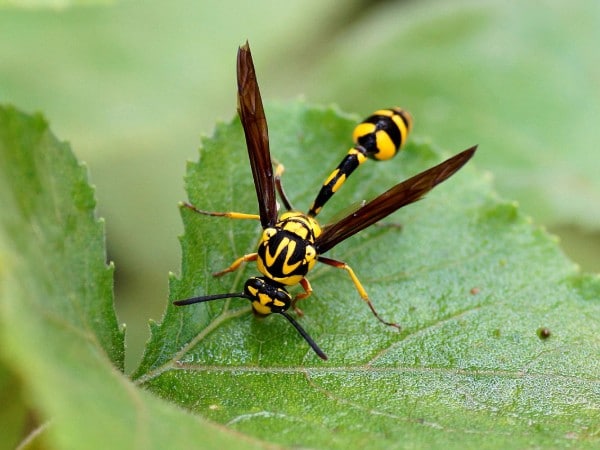 These are tiny wasps at about half an inch in size, also known as mason wasps. They are called like that because of their nests' jug or pot shape. Among all the other wasp species, potter wasps have the largest diversity, about 200 groups.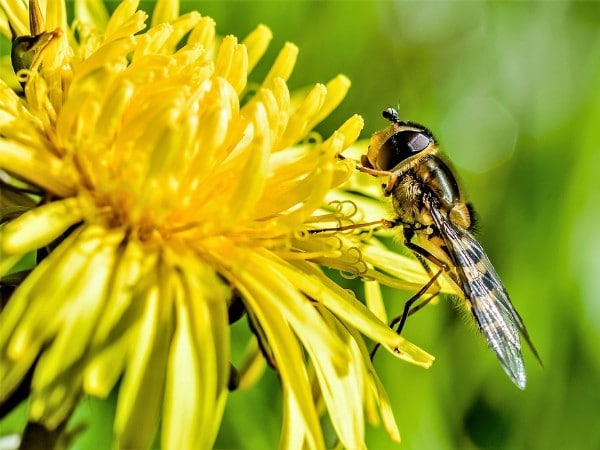 Pollen wasps are occasionally mistaken for yellow jackets because of being small (about 0.25 to 1 mm long.) However, pollen wasps have huge struck antennas. They create their nests underground in the mud and water. From their names, they feed on pollen and nectar.
Our Readers' Bee Questions Answered
Are you curious about bees? Do you have unanswered questions in mind? Find out below as we gathered the most frequently asked questions about bees with answers.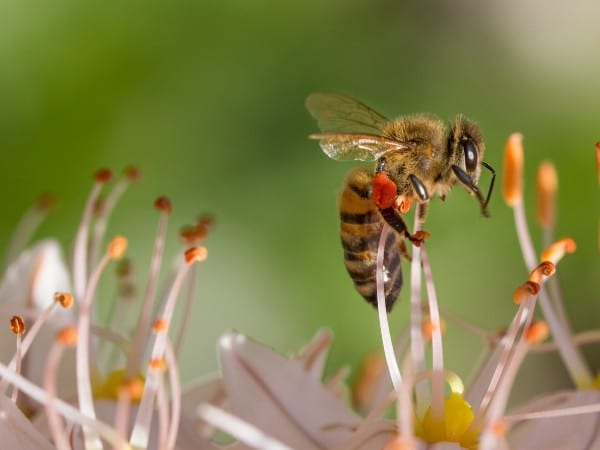 To sum up, every type of bee or wasp is really important to our environment. Knowing and understanding each kind can help us know what to do with it.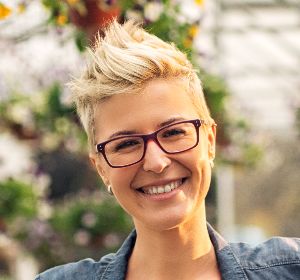 Nancy Drew here. I am a biologist. I love all living things, but plants have a special place in my heart. I aim to bring plants and YOU closer again. In this modern day, plants are easily the most neglected home and garden design necessity. For the most unacceptable reason, 'Oh, I don't know how to take care of them' or  'Oh, I don't have a green thumb'. When in fact, plants can be your pet and they require less maintenance than any pet you'll ever have. Ok, maybe I'm being pushy. But hey, if there's one thing I want to tell you, it is that plants aren't intimidating if you have the necessary knowledge for them. That's why I'm here. I will share everthing I know about my beloved plants and hopefully you decide to adopt one in your home. You know, for fresh air, something to talk to sometimes, and possibly an instant destresser. Yes, I talk to my plants. A lot actually! If you got any concerns about planting, please don't hesitate to message me.