Plants have provided us with so many things while taking away so little from us. The oxygen we breathe, the food we eat, and the scenery we enjoy are all gifts of nature we received from them. Flowers, especially, have a beauty almost unparalleled in the natural world, and we would like to see that beauty closer to us, no matter how selfish the thought may be. Thus it is nowadays common to see at least one flower garden being grown in your area.
Flowers are, perhaps, the prettiest structures in this world. Stunning as they are, their beauty serves a purpose. They evolved to be beautiful, encouraging other creatures to proliferate their seed everywhere. Whether they are in the woods or your neighbor's flower garden, flowers certainly look the part of beautiful. A flower garden even enhances their allure, adding in the mix the appeal of a human-orchestrated design. The result is something that we'd attribute as the face of Mother Nature.
The Beauty of Flower Gardens
Everyone loves gardens; it's not an exaggeration. Being able to enjoy a piece of nature beside the comfort of your own home is a very satisfying experience. Having such beautiful flowers to paint among the greens greatly enhances the activity, and the very practice of gardening can even cut the risk of heart attacks and stroke. The flowers bring with them the exquisite beauty of nature, and some carry incredibly nice scents, good enough to pass as perfume. There is also the language of flowers; they can express anything we can't in words. A good floral garden is more than a garden; it is a manifestation of our love for nature and of the things we love.
15 Fascinating Flower Garden Design Ideas
Flower gardens come in various forms, from the flowers and the colors to the design choices and landscape that you use. These 15 design ideas are a headstart so that you can see how beautiful flower gardens look and get started from here!
Flower Garden Ring
This flower garden looks every bit the centerpiece that it is! With a large, eye-catching plant in the middle, the bed of flowers looks ready to be adored by your visitors and friends. Plus, that perfect circle and layering are a great sight for perfectionistic eyes.
Knot Flower Garden
You know you're lying to yourself when you say you don't want that fancy labyrinth garden filled with lush green hedges and immaculately beautiful flowers you see in the movies. The sad part in this is that knot gardens need a large enough plot of land and a dedicated gardener. But a miniature version at your lawn wouldn't hurt, you know.
Spilling Petunia Flower Borders
If you got too distracted by the beautiful flora, you might have missed that these beautiful pink flowers are put in a receptacle then grown or arranged in a way that it spills to the floor. It covers the entire planter, making it look like the petunias grow from the ground itself.
Large Oblong Flower Bed
If you have a huge lawn to spare, you can wing it with an equally-huge flower bed. You can leverage the natural beauty of flowers and make a design using a variety of colors. It's simply aesthetic, and you get a literal bed of flowers on your lawn.
Flower Garden on an Antique Truck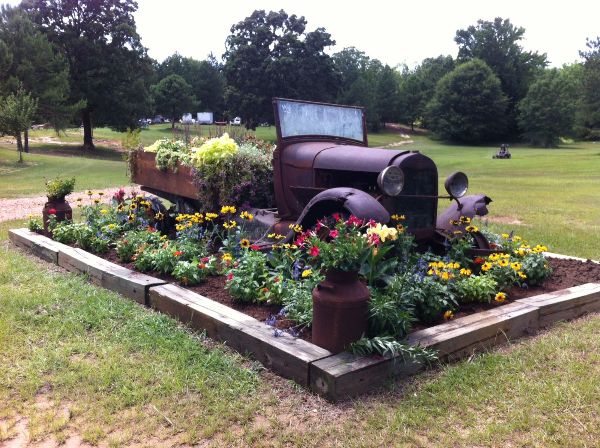 Nothing screams antiquated more than putting an old rusty truck right in the middle of your flower garden and making it the centerpiece. The neat retro appeal of this aesthetic will surely take anyone several generations old to a quiet trip down memory lane.
Cinder Block Flower Garden
You would be surprised to know that cinder blocks make great planters for your flower garden! Their gray look balances out the vibrant colors of the flowers, and their form makes for a sleek display of your beloved flora.
Flower Garden Bed around the House
Fend off the dull, lifeless aura that creeps in from the outside with a flower bed landscape of pink and green hues! The bright colors of the flower garden wrap your house in a light atmosphere that keeps everyone feeling poppy and happy. Plus, they look great by default, so you wouldn't easily mess this up.
Hanging Flower Garden
This flower garden idea takes a page from King Nebuchadnezzar II's book of "how to impress your wife" and executes it really well. The planters are covertly hidden by the healthy inflorescences, giving an illusion that these flowers grow out of the brick wall itself.
Mobile Flower Garden on a Carriage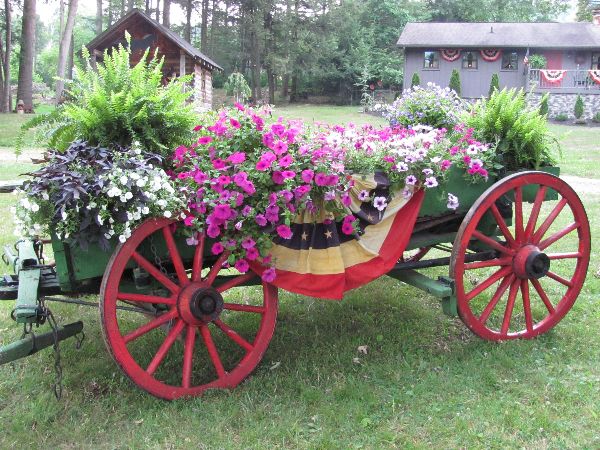 Getting that retro look doesn't have to sacrifice function. This carriage looks perfectly ready to go on a quick trip around your lawn, carrying your beautiful flowers. It even looks good wherever you decide to settle it.
Potted Flower Garden
Let's not forget the easiest way of gardening in here. Potted flowers still deserve a place in this list, too, especially that planters can go in a large variety of sizes and forms and designs. This one takes some good cement and forms it into pots, which is an excellent DIY idea in itself!
Flower Garden along the Window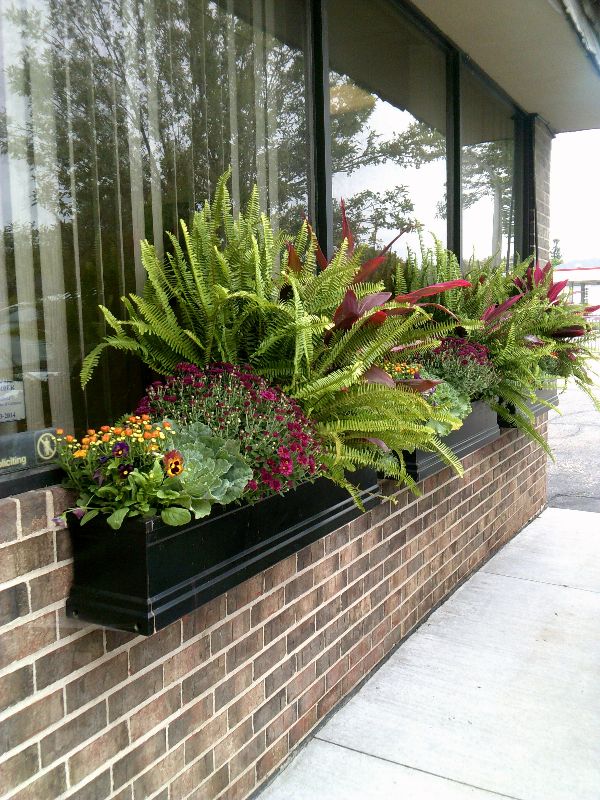 Having planters attached to your window renders your outside view look a ton better. When seen from inside, the flowers make for great lower borders to the picture. Looking at it from outside, your house gets adorned with gorgeous colors that liven up your brick walls.
Recycled Rubber Tires Flower Garden
Tires are illegal to be thrown in some states because, even though they aren't hazardous, they take up a large space and are hard to handle in landfills. If you have some scrap tires lying around, turning them into a flower garden will not only make your lawn look good, it will help lessen the trash problems related to them!
Palette Flower Garden
This flower garden is for all artists out there! With this colossal palette installation, your lawn becomes the entire canvas. Granted, the wooden structure can be hard to make, but if you pull it through, this will become more than just the centerpiece, it will become the talk of the crowd.
Flower Garden on a Tree Stump
If you've recently cleared out your lawn of huge trees, chances are there are still some stumps left. You can repurpose those stumps by turning them into planters and growing your flowers there. It ends with a pretty neat and natural aesthetic that's a welcome addition to your garden.
Inspiration from the Dubai Miracle Garden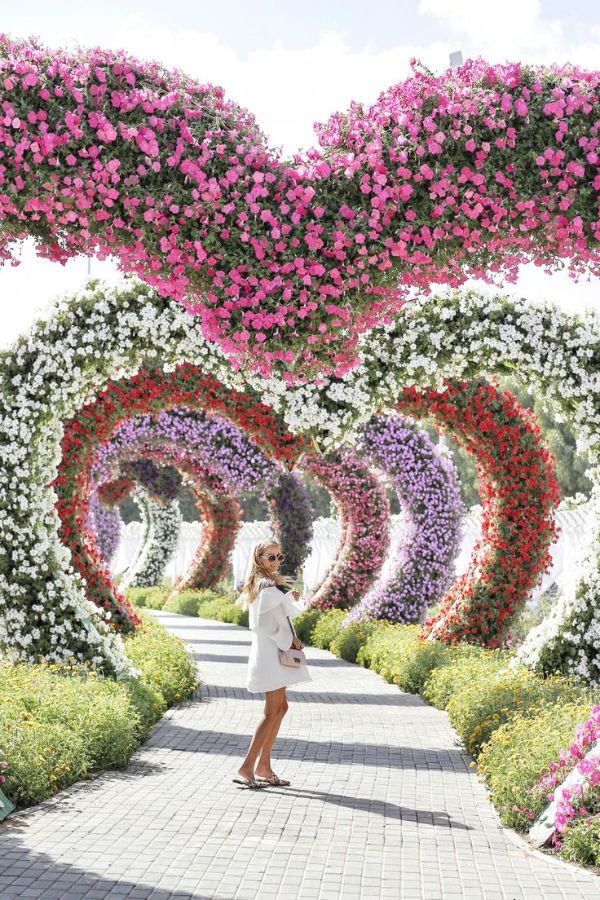 Where else can you get the best flower gardening ideas than from the largest flower garden itself? The Dubai Miracle Garden boasts 780,000 square feet of ideas that you can take and apply to your own garden. These entrance arches, for example, are stunning to have in your garden!
How To Start A Flower Garden: A Beginner's Guide
Before you can start a flower garden, these are some of the considerations you need to make.
Knowing about annuals and perennials before starting a flower garden certainly helps.

Annuals give you a variety of colors to choose from, and they bloom all season, but they only last for one season. Perennials, on the other hand, last for many years, but they bloom for just a few weeks or months. Annuals are also generally finicky in the care department, while perennials can survive with a weekly check-up. The best (and also the most common) way to get the benefits of both is to simply have both in your garden.

The amount of sun you get also affects your garden. Picking an area with eight or more hours of sun is a good starting point, but some flowers can bloom with less sun, but they come in rarity.
Good soil with good drainage is pretty much the requirement for all plants. With the right mix of soil that drains well for plant roots to grow through, you can have a pleasant garden around.
Consider the kinds of flowers you want. To start picking out your flowers, you should consider the color of the flowers and when they will bloom, the height and size of the plant, and how appropriate they are to grow in your area.
Sketch your design first, considering the space and plants you have. That way you can have a clear view of how your garden will look like.
Flower Garden Tips and Tricks
Getting done with the flower garden is merely the start of the journey. These flowers are sure to need your attention every once in a while, especially annuals. Hence you'll need to be on the watch with your flower garden.
Getting done with the flower garden is merely the start of the journey. These flowers are sure to need your attention every once in a while, especially annuals. Hence you'll need to be on the watch with your flower garden.
Invest 15 minutes in your garden

At the minimum, invest 15 minutes in your garden. This time can include picking out weeds and watering them, as well as picking out any harmful insects on your yard.

Keep the soil moist by watering it frequently.

A straightforward way to check soil moisture is by pressing the soil; if it's moist, you can put off watering, but if it's dry, you should water it.

You can also use fertilizers for your flowers

Especially if your soil lacks nutrients required by your plants, it's beneficial to use fertilizers and plant food according to their label.

Consider mulching your plants

Put 2 inches of mulch in the first year of your perennials, and continue filling it to 2 inches every year afterward. Annuals can go with 2-3 inches of mulch. This technique conserves water, lessen weed growth, and keep soil temps normal.

Keep a good number of Hand Tools

You will need to work on the soil once annuals die, and then plant new flowers there. You'll need them to deadhead the annuals (cutting dying flowers to induce more flowers) and to divide the perennials for new plants.
Final Thoughts on Flower Gardens
A flower garden could be the best thing you could have in your lawn. You can enjoy the beautiful sight that you can look through your window, or you can even sit in the middle and inhale both fresh air and nice fragrances. No matter what your reasons for growing flowers are, having a flower garden is certainly a satisfying experience, from start to finish.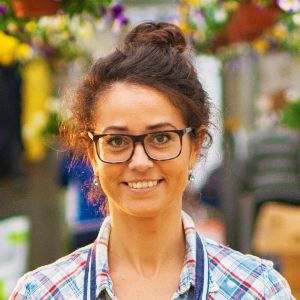 From a simple penchant for yellow flowers as a child to becoming a full-time gardener, nature advocate, and garden designer, I am extremely happy to finally have a platform for me to successfully spread knowledge and expertise in the garden. After highschool graduation, I took many courses related to garden design to feed myself with more knowledge and expertise other than what I learned from my mom growing up. Soon as I finished courses, I gained more experience through internships and most especially, garden shows! I also tried to join as many garden design competitions locally. For any garden design inquiries, ping me!