Sleep is an essential human function. Your body even keeps a clock inside itself that keeps track of when you should go to sleep. However, people nowadays are plagued with sleeping disorders. There are many medications available that induce sleep, but these come with their side effects that are often unhealthy. You would be surprised to know that there is an easy way to lull yourself to sleep that doesn't require chemicals. With our natural affinity with nature, plants for bedroom could be the solution to your sleepless nights.
Plants have been known to bring a calm feeling to people around them. They make up for a great sight wherever they may be. Luckily, a good number of them grow well together with us. Thus you can take advantage of that by keeping them inside. But more than that, some plants have special functions and abilities that can help get you to bed. Having the plants for your bedroom can be calming at worst, and life-changing at best.
30 Best Plants For Bedroom
Plants for bedroom, or those plants for your sleeping quarters, serve more than just aesthetic purposes. Many plants also have specialized features in them that either directly or indirectly improves your sleep quality. Read on to find out more about these plants for your bedroom!
Air-Filtering Plants
A while back, NASA conducted the Clean Air Study to determine which among the common houseplants clears off household chemicals. These plants are listed in several pieces of research as air-purifying plants that improve indoor air quality, making them great plants for the bedroom that can help make you sleep better!
Snake Plant (Mother-in-Law's Tongue)
First off, the snake plant doesn't need much care. Secondly, it filters the air of household toxins. Last but not the least, it emits oxygen at night, which can help improve your sleep quality. There aren't many plants that do these all!
Spider Plant
Spider plants are great plants for the bedroom because they purify the air you breathe, making the air around cleaner and improving your nightly rests well! It looks great, especially when suspended, like in this kokedama!
English Ivy
The English ivy clears off toxins as well as molds and other airborne allergens inside the house. Many people want this because its foliage looks great in any way, whether it's hanging, climbing, or crawling.
Areca Palms
The Areca palm tops NASA's list of air-purifying plants and even becomes a great humidifier during dry times. In winter time, you can even switch off your electric humidifier and have this instead!
Bamboo Palm
Another entry from the palm group, the bamboo palm is just a notch lower with the air-filtering powers of its cousin. It looks great with its foliage and is easy to take care of, making it a beautiful addition to your room.
Golden Pothos
Aside from its air toxin-cleaning powers, the golden pothos is also known as a great houseplant, which grows even under unfavorable conditions. Thus it's also called the devil's ivy.
Boston Fern
The Boston ferns are great at purifying the air around the room. You'll need to mist and water these plants for your bedroom to reduce dropping leaves and retain their greens.
Philodendron
The heartleaf philodendron got its name from its leaves that resemble a heart. It can thrive on neglect and is almost impossible to kill. The entire plant is toxic and can cause swelling, among others, once ingested. Thus, these plants for your bedroom are best placed on top of a table or be hung.
Chinese Evergreen
The Chinese evergreens are notoriously difficult to kill off, being very tolerant of abuse and neglect. Add on the fact that they clean up the air around, and you get one of the perfect plants for a bedroom, and for every room in the house!
Dracaena
The dracaena is actually a genus with many species of it coming up to NASA's list of air-filtering plants. Most dracaenas thrive on bright, indirect light, and their long, slender leaves retain their color even in low light.
Weeping Fig
The ficus tree, or the weeping fig, is tolerant of poor growing conditions and easy to take care of. Its elegant growth and ability to clean the air of harmful toxins make it a great houseplant as well as one of your plants for your bedroom!
Rubber Plant
The rubber plant is actually a relative of the weeping fig, as both are of the fig genus. The rubber plant also has similar air-filtering properties as the weeping fig, and they both look indoors, too!
Aloe Vera
Aloe vera is such a great plant. One, it can survive in neglect. Two, it's known to be used as a treatment for cold sores, and burns, among others. Three, it also makes into NASA's list of air-filtering plants. Given all these things, it's an excellent plant for your bedroom!
Purple Waffle Plant
Research from the University of Georgia shows that the purple waffle plants are one of the "super ornamentals," ornamental plants that remove toxins from the air. Together with their pretty foliage, having them as plants for bedroom will definitely be a great experience for your eyes and your sleep!
Asparagus/Foxtail Fern
Asparagus densiflorus makes it to UGA's list of VOC-cleaning "super ornamentals." Their foliage hides spikes in it, and you should keep this plant far from children and pets' reach because its berries are actually poisonous.
Flowery Plants for Bedroom
Plants are not just made of leaves and stems. Many also have flowers, perhaps the most beautiful creations in the natural world. They show the true face of nature, something that we call "beautiful" that we'd love to see in our sleeping quarters. Look down for some of the plants for bedroom with the prettiest inflorescences!
Wax Plant
The wax plant or Hoya carnosa is also one of UGA's "super ornamentals." With these pretty star-shaped flowers that seem to form a sphere, having some hoyas as plants for your bedroom will certainly look and feel better than having none at all!
Wandering Jew/Purple-Heart Plant
Another of UGA's "super ornamentals," the purple-heart plants are famous ornamental plants. Their attractive flowers come in white, pink, or purple, and their leaves come in hints of green and red or purple, making them great plants for bedroom!
Orchids
Beyond their impeccable beauty, orchids also do many other plant things very well. Aside from their pretty inflorescences, studies from NASA show they suck in xylene, an indoor pollutant from paints. These make orchids such great plants for the bedroom!
Peace Lily
Aside from their beautiful flowers, peace lilies make it to NASA's air-cleaning houseplants, making for great floral aesthetics in your room. These plants for the bedroom are also tolerant of low light and a bit of abuse.
Gerbera Daisies
Putting some gerbera daisies as plants for your bedroom will make your quarters look stunning. They look great with their flowers coming in many colors, like red, orange, yellow, pink, and everything in between.
Christmas Cactus
Everything you need to know is in its name: its flowers bloom during Christmastime, and it can thrive on neglect and low light because it's a succulent. Its seasonal flowers make them very precious sights during the yuletide season!
Chrysanthemums
Not only are mums great aesthetic additions to your house, they are also tolerant of low light, so they are perfect plants for the bedroom where natural light is scarce. They can even suck off the toxins from your air!
Plants for Bedroom with Slumber-Inducing Fragrances
Plants have more going for it than the visual aspects. Many flower-bearing plants and herbs emit calming fragrances that help induce sleep and improve your overall sleep quality. Wake up refreshed smelling these plants for bedroom before and after your much-wanted nightly rests!
Jasmine
Jasmine has dainty white flowers and is known for its particularly sweet scent. This scent has been proven to reduce anxiety and help you gain more restful sleep, which in turn promote alertness and productivity throughout the day.
Lavender
The National Sleep Foundation acknowledges that the smell of lavenders can lower blood pressure and heart rate. According to one research, infants calm down after a bath with lavender oil scents. You'll literally sleep like a baby with these plants for bedroom around!
Passionflower
Aside from their beautiful flowers, passionflowers are useful for treating sleeping problems, nervousness, and anxiety. Keeping them as plants for bedroom will certainly benefit your sleep!
Gardenia
One study found out that a compound from the gardenias improved the sleep quality of men who suffered from sleep problems. Since gardenias are known as natural sedatives, keeping some as plants for your bedroom will certainly make your room look better and your slumbers feel better!
Valerian
The dainty flowers of the valerian herb look striking and emit a calming vanilla fragrance that helps induce sleep. Having this as one of your plants for the bedroom will beautify both your room and your dreams with better sleep!
Eucalyptus
The scent of eucalyptus can lower congestion problems in your airways and ward off colds. Having the plant in your bedside will certainly let you inhale as much of that calming scent before sleep, keeping you tucked underneath your sheets.
Rosemary
Rosemary, aside from being a cooking herb, improves concentration and relieve stress, as well as regulate your mood and keep you feeling poppy. Because of these, they become great plants for your bedroom and kitchen!
Chamomile
Chamomile is popular for its pleasant scent which helps promote relaxation and induce a deep sleep. Having some chamomile plants for your bedroom will let you sleep well and make your room look poppy and happy!
Plants For Bedroom: Why do you need them?
Some people are not comfortable keeping plants in the bedroom because plants give off carbon dioxide and take in oxygen at night. Some are concerned that it could affect sleep quality, having "more" carbon dioxide than oxygen. However, the change of their levels is actually insignificant, and usually, the good benefits outweigh the bad. Carefully choosing your bedroom plants can even enhance your sleep quality!
Plants come in a lot of diversity. Mix, match, and complement plants with varying properties and you will have a bedroom that coerces you into bed the moment you go inside it! For some reliable advice, NASA suggests having at one plant per 100 square feet of the home or office area.
Bedroom Plants and Feng Shui
It is a general rule of thumb not to put plants on the bedroom, as per feng shui. Plants have the vibrant yang energy of growth and movement, which is not the kind of energy that's recommended for bedrooms (yin energy best fits calm spaces like the bedroom).
But there are exceptions to every rule. Particularly small plants are good to go in the bedroom. If you have a large bedroom, you can also afford to put one large plant around. If your feng shui birth element is compatible, then you might tolerate plants better than others. Overall, it's in your best judgment to tell if the energy of the plants for your bedroom will disrupt your sleep or not. If you sleep like a baby in the embrace of many plants, then all's good. If not, then you can try moving around those plants as you see fit.
Final Thoughts On Plants For Your Bedroom
Plants are great to have in any space in the house. Not only do they greatly contribute to the beauty of the place, but they also bring with them a natural feeling of calmness that you will definitely want after a long day of stress at work or school. You can carry this feeling over to your sleeping quarters. Thus these plants for bedroom will definitely help you in that endeavor. After all, we all want to take our well-deserved rest in the most comfortable way, so that we can also welcome the next day properly, in the mood to make a difference in the world.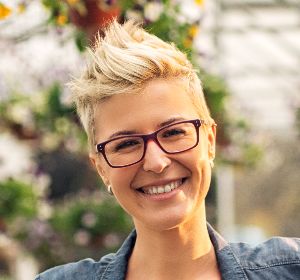 Nancy Drew here. I am a biologist. I love all living things, but plants have a special place in my heart. I aim to bring plants and YOU closer again. In this modern day, plants are easily the most neglected home and garden design necessity. For the most unacceptable reason, 'Oh, I don't know how to take care of them' or  'Oh, I don't have a green thumb'. When in fact, plants can be your pet and they require less maintenance than any pet you'll ever have. Ok, maybe I'm being pushy. But hey, if there's one thing I want to tell you, it is that plants aren't intimidating if you have the necessary knowledge for them. That's why I'm here. I will share everthing I know about my beloved plants and hopefully you decide to adopt one in your home. You know, for fresh air, something to talk to sometimes, and possibly an instant destresser. Yes, I talk to my plants. A lot actually! If you got any concerns about planting, please don't hesitate to message me.