Plenty of homeowners right now are discovering the practicality of a raised garden bed. It is a type of gardening wherein the soil is placed in beds of any length or shape chosen by the garden owner. One bed is approximately 3 to 4 feet wide. Furthermore, as the name suggests, its soil is above ground and fenced in by wood, cinder blocks, or any repurposed material. Significantly, you will notice the geometrical placement of plants or vegetables inside a raised garden bed. The spacing is in contrast to the traditional row gardening.
In following the geometrical placement, when plants or vegetables grow its leaves will just barely reach each other. This will result then in a climate that represses weed growth but at the same time retains moisture.
Adding to the popularity of the raised garden bed is its reliable benefits. For one, raised garden bed enthusiasts can draw out their planting season. Since the soil in this kind of gardening warms quicker than the conventional garden in springtime, growers can already start planting crops such as peas or brassica members which craves cool weather. Moreover, with its close spacing and regular use of compost, this type of gardening results in a higher yield compared to the conventional row gardening. Those with back problems, trouble with bending or kneeling will likewise be grateful for working with a raised garden bed. If the frames are sturdy, senior citizens can simply sit on the edge and tend to their garden. Otherwise, older gardeners or those with physical problems can opt for a waist-high raised bed which will allow them to do gardening without needing to bend over.
[amazon_link asins='B01N8P1AFO,B079VVB81J,B01CQ7A0DQ,B00L1GOGZ2,B079R764PP,B079SQRL46,B01CTKJUNG,B01KLUVBLU,B00IK3UTKA' template='ProductCarousel' store='plantedwell-20′ marketplace='US' link_id='759b216d-a879-11e8-b029-d75f1099e9bd']
15 Raised Garden Bed Designs
If you are planning to create your own raised garden bed, take a closer look at the following designs. Nonetheless, remember it is always up to you on how you will style your garden!
1. Simple Raised Garden Bed
A narrow or tight backyard is not an issue with this 2×2 raised garden bed. This style is highly suitable with flowers or herbs.
2. Raised Wheel Garden Bed
If you are searching for something unique, choose the raised wheel garden bed. The design definitely adds character to your backyard.
3. Raised Herb Garden Bed
Herb lovers will surely treasure this garden bed. It is portable and able to withstand the different weather. Below you can even store gardening tools.
4. Multi-level Raised Garden Bed
With the multi-level raised garden bed, you can keep stray animals from getting to your precious plants. Aside from that, it allows summer plants on the upper level to bask in the sun while providing shade to cool season plants on its lower layer.
5. Pyramid Raised Garden Bed
As can be seen below, this Pyramid raised garden bed allows hassle-free harvesting. Besides this, the design is smooth to maintain.
6. Corner Tiered Raised Garden Bed
The corner tiered raised garden bed is ideal for those planning to grow plants on their deck. Since it has several tiers, you can choose to grow a variety of flowers or plants.
7. Raised Garden Bed with Built-in Stools
For the elderly or those with back problems, a raised garden bed with built-in stools is just perfect. It is not only nifty but also functional as well.
8. Medium Raised Wood Garden Bed
In the meantime, apartment or condominium residents will highly benefit from this medium raised wood garden bed. It will easily be a pleasant complement in anyone's patio or deck.
9. Raised Garden Square Foot Grid Bed
Not enough space? Try the raised garden square foot grid bed. The design is straightforward but allows for serious gardening.
10. Cinder Blocks Raised Garden Bed
Garden enthusiasts that are not a fan of sawing, measuring, and using a power tool should consider using cinder blocks for their raised garden bed. It's as quick as just hunting for your ideal spot, even out the ground, position your blocks, and start planting!
11. Medium 4×4 Raised Bed Garden
Vegetable growers will extremely profit from this medium 4×4 raised bed. It has a lot of room for roots to loosely grow and get a stronger grasp on the soil. Not to mention, with its size you can be sure your soil will stay in place plus endure kids or pets bumping into it.
12. U-shaped Large Raised Garden Bed
Those serious with growing their organic garden should take a look at this U-shaped raised garden bed. It is massive in size and suitable for gardeners with sufficient space.
13. Enclosed Raised Garden Bed
This enclosed garden bed is for anyone seeking something sturdy and durable. It's enclosed walls will make sure that playful pets and other critters will stay out of your garden.
14. Used Tire Raised Garden Bed
Do you have a lot of tires lying around? Put it to good use by creating a used tire raised garden bed.
15. Hoop House Raised Garden Bed
Different seasons have varying effects on your garden. One great solution is this hoop house raised garden bed. The cover ensures that it protects your plants from outside damaging elements.
DIY: How To Build A Raised Garden Bed
The materials included in the video were 2×4 lumber, deck/exterior screws, wide-mesh hardware cloth, heavy-duty plastic sheeting, garden soil, and compost.
Before starting your project, choose a nice spot for your raised garden bed. Many types of plants, as well as vegetables, require a lot of sunshine. In this video, it outlines constructing a 4×6 by 10-1/2 inch bed with 2×4 untreated lumber. Though untreated lumber is not really rot proof, however, it's a superb alternative when it comes to edibles.
Begin by measuring and marking the walls then cut the boards. See to it that you have 2x4s on your corner posts to genuinely support walls. Note that corner posts should be of the same height as well with your garden bed wall. This project requires cutting (6) 6-foot boards, (6) 3×9 boards, and (10) 10 1/2 support posts.
Now attach your boards for every wall. Your corner posts should be above the wall boards. The ends of your 6-foot walls must be flushed and remember to set back 1 1/2 inches in the end area of your shorter walls. Once that is settled, start drilling pilot holes and attach your posts with screws. If you decided to cut extra posts, clamp it now too.
After drilling holes, connect all posts with screws and form your box. Keep in mind that posts must be inside the bed. When your frame is ready, you can now set it in your chosen location. Remember also to outline your spot with a shovel. Similarly, it is wise to set up your raised garden bed on the ground instead of on a hard surface like concrete. The ground can provide decent root growth and drainage.
If you completed the outline of your frame, then set it aside first and get rid of the grass. Use a spading fork to loosen dirt and allow fresh plants to nurture into the ground.
Fasten your wide-mesh hardware cloth at the bottom of your frame before positioning your garden bed. Adding the mesh will enable earthworms to enhance your soil but at the same time prevent weed growth. Alternately, you can use landscape fabric or newspaper to keep weeds out. Although in using this, take note that weed seeds can drop on your soil and sprout.
Since the material used in this project is not rot-proof, fasten heavy-duty plastic on the inside of your frame before placing your soil.
Next, fill your raised garden bed with your chosen soil and compost. Place your plants in holes and gently fill with rich soil. Remember your soil must be loose for the water to penetrate the roots.
Raised Garden Bed Plan: Things You Need To Consider
Raised Garden Bed Kit
On the other hand, if you are not keen on DIY-projects, you can opt for the prefabricated raised garden bed kits. In buying prefabricated garden kits, the pieces are already available in its specific size. All you have to do then is assemble the pieces together. Meanwhile, you have several options when it comes to the type of wood to use. If you prefer natural water-resistant material, you can purchase cedar and redwood kits, however, these types are pricey and redwood is hard to find. Aside from those, other workable materials are Hemlock, fir, and pine, though these kinds are not durable in time.
Raised Garden Bed Soil
In general, you can use your backyard topsoil for your raised garden bed. Then again, if you want to start fresh and avoid weeds you can opt for various blends of soil. For example, you can blend 50% of your rich topsoil with 50% compost which can include animal or mushroom manure. Likewise, you can choose to work with a superior soil blend composed of 1/3 peat moss, 1/3 vermiculite, and 1/3 compost blend we mentioned earlier. Keep in mind that no matter rich your topsoil is the key to your success is the compost.
Location and Size
For the location of your garden bed, it is best that you lay out the long side facing south. When you do this, it will enable equal lighting for all your plants inside the bed. On the contrary, if you lay it out the other way you will limit sun exposure. This is because larger plants will block the sun for smaller plants at the back. Accordingly, your raised garden bed should also be no more than 4′ wider. After all, it will be much easier to reach out at the center of the bed from either angle. You can likewise prevent stepping on the garden bed with a narrow dimension and avoid compressing the soil. With regards to the length, it is up to you if you decide on longer lengths as long as you install cross supports every 4′ to 6′ of your frame to discourage bending.
Corners and Fencing
Installing raised corners or fencing in your garden bed is advisable especially if you have trouble with pets, other animals, or even kids damaging your plants. Building one doesn't have to consist of costly materials, you can readily construct one with supplies from your local hardware store.
[amazon_link asins='B01B590GMQ,B00BGTI1J6,B071VV1KBH,B074G4BSXW,B01M5GVYP0,B00W8CABKM,B07C5PWQXT,B01N6KLDIE,B00I8PDP9W' template='ProductCarousel' store='plantedwell-20′ marketplace='US' link_id='d7f1b0e0-a879-11e8-96de-07f6800109e3′]
Expert Tips on Raised Garden Beds
All in all, where you decide to position your raised garden bed depends on you. Though many install their raised gardens on patios and driveways, yet, you must take a few things into consideration before doing this. For one, note that the surface of these areas is not level. The design is that way so that water will naturally drain away from the house. On one hand, remember that your raised garden bed should be installed on a level surface, same as if being built on a soil. Thus, bed bottoms on the low end must be blocked up to assist drainage.
With regards to watering, keep in mind that raised garden beds need frequent watering compared to traditional gardening since it drains quicker. If after checking, you notice that your soil is dry one inch beneath the surface, then it is time to water your garden. This means that in the summer season you will need to water multiple times in a day but it will still depend on the stage and type of your plant. If your schedule does not permit this, then it's best that you do deep watering instead of shallow watering a couple of times per week. Ultimately, once you have chosen your design and installed your raised garden bed, the most important thing to do now is have fun and enjoy your yield!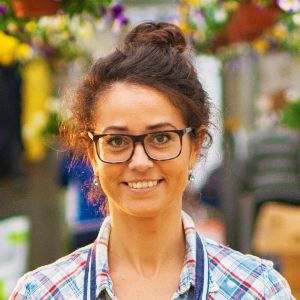 From a simple penchant for yellow flowers as a child to becoming a full-time gardener, nature advocate, and garden designer, I am extremely happy to finally have a platform for me to successfully spread knowledge and expertise in the garden. After highschool graduation, I took many courses related to garden design to feed myself with more knowledge and expertise other than what I learned from my mom growing up. Soon as I finished courses, I gained more experience through internships and most especially, garden shows! I also tried to join as many garden design competitions locally. For any garden design inquiries, ping me!